Since the introduction of the 'Pure water fed pole system' both commercial and domestic window cleaning have undergone a complete change in cleaning methodology. Almost a revolution!
When we set up in business as Phoenix Cleaning Company we evaluated the system and decided that for us, the days of ladders, buckets, cleaning solutions, squeegees or finishing cloths, were largely over and, following extensive research, we opted for the new system as we could see the many benefits that it offers to both operators and clients.
How does it work?
The system uses purified water which helps to remove the dirt and grime from windows and gives a much better end result with very little streaking or smearing. The glass itself looks and feels brighter and cleaner.
The team prepares our own water at our premises having invested in the equipment needed including a 1000 litre tank. The water is not just from the tap but is a specialised supply of purified water using fully reverse osmosis and de-ionisation water technology to treat it. In fact, the way we prepare the water is very similar to the system used in water treatment plants and results in a water product that is healthy and fit to drink as per standards set by the World Health Organisation.
This image from Ro-Man.com depicts the process of reverse osmosis in s simplistic way: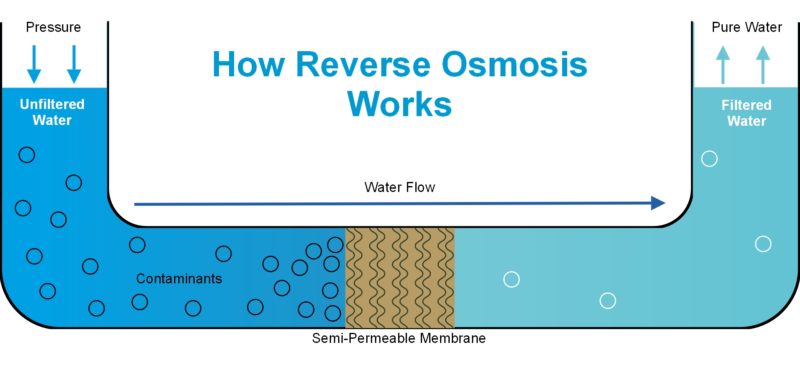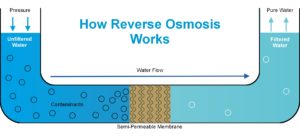 Once the water is ready we then transfer it to the tanks in our window cleaning vans which travel with their own supply of pure water. So once at customers' premises we do not need to access their water supply.
Onsite we take the water from the mobile tanks through a twin stacked hose on an electric rewind reel. This is pumped up through carbon fibre extending poles to a special cleaning head comprising long lasting bristles and a pencil or fan power water jet. The 100psi unit is coupled with a digital pressure pump and flow-master flow controller ensure accurate control and flow of water.
The system gives us the ability to clean windows safely from the ground and up to heights of around 65 ft. This makes our job much safer as well as quicker. We can work 52 weeks a year and are not troubled by inclement weather.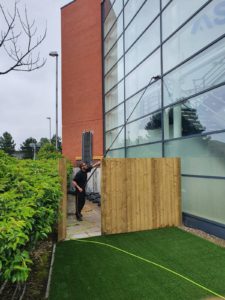 Our customers know how seriously we take training and accreditation in our business. We do not take any chances or cut any corners. We train our window cleaning personnel to the Federation of Window Cleaning standards to use this system in full compliance with the Health & Safety rules and regulations.
We are immensely proud of an unblemished safety record and high quality standards in everything that we do.