How we're continuing to shape our vision for Phoenix Cleaning Company – 12 months on!
As we look back over our first year in business we have definitely learned many new things and have grown and adapted during our exciting journey.
Our vision was simple – we wanted to create the very best Commercial Cleaning Business based on our long standing experience in the industry, customer service, high quality work and delivery, an engaged and trained team, and a desire to give back to the communities we serve.
We always felt that being successful was never just about the money. For us making an impact on the businesses we serve and the communities we work in, is equally as important.
Being in business is all about taking risks
That is exactly what we did when we 'opened our doors' a year ago. We launched PCC despite Brexit and the challenges of the economic climate. We had the drive, ambition and enthusiasm to succeed. Yes, we had industry contacts but we had no actual contracts nor jobs on the board! Scary times. Would we do it all again? Absolutely. Perhaps we would change things a little however but from this standing start, overall we've had a very successful year.
Working with a range of commercial customers
Within 12 months we have worked for a large number of commercial business including Sports Stadia, Shopping Centres, Industrial Units, Offices, Shops, Schools, Hotels and Restaurants.
Part of the reason we are gaining contracts from a growing number of businesses is that we have delivered a quality service, on time, to agreed specifications and budgets Add to this that we are fully insured, DBS checked and Accredited to the main bodies that govern our industry, including the Federation of Window Cleaners  https://phoenixcleaningcompany.co.uk/accredited-commercial-window-cleaning
There are many highlights to share with you as we look back over the past year. We are immensely proud of the success of our core service – commercial window cleaning. Businesses have commented on the quality of our work, the fact that we are unobtrusive and just get the job done. We've developed a 'Satisfaction Guaranteed' pledge which ensures we rectify any small problems within 24 hours. We have yet to receive any call backs.
Whilst out onsite cleaning windows we have often been asked to clean gutters and have had considerable success in expanding this aspect of our service. We've cleaned several types on buildings with visible growth in the guttering using a variety of methods, always choosing the most suitable one for the specific job. The team may use access equipment, ladders or our gutter vac system depending on the circumstance.
We are very proud of our success in shifting really heavy duty dirt and stains from high traffic areas in offices and hotels – avoiding the costly replacement of carpets and other types of floor covering.
Our Areas of Operation
Starting predominantly in Leeds and Wakefield we've expanded to service customers in the wider area of Calderdale, Kirklees and Bradford. We've completed in jobs in Harrogate and as far as Stoke on Trent.
Taking time to learn
The Directors as well as the team, have put themselves through Finance and Accounting training, plus Sales and Management training including team building and motivation. We have also invested in improving the skills of the team in areas such as First Aid training and the Federation of Window Cleaners 'Cleaning Windows Safely' course.
Giving back
Giving back to our local communities is very important to us all and as with our team we invest in causes close to our hearts – taking on initiatives that directly support others. We've sponsored many clubs such as giving a local football team water bottles and been a Match Ball sponsor for a local team. We've supported fundraising for Cash for Kids and Yorkshire Air Ambulance, as well as donating raffle prizes for fund raisers in aid of a Men's Mental Health Charity.
We've sponsored at the local Inspire Awards to recognise outstanding female achievement. And who would have thought that we would make the final of the Family Business category at Morley Chamber Business Awards?!
Saying thank you!
Two little words that we use at the end of each job. Two very important words that we'd like to repeat here to all of you who have supported us. Complacency has no part to play in our business as we strive to look for better ways to do things and support our vision to grow further in 2020.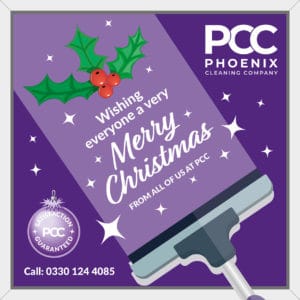 Happy New Year from us all at Phoenix Cleaning Company.