Commercial Carpet Cleaning – Get fresh for 2020!
Are the carpets in your commercial premises starting to suffer as the weather worsens?
Are you finding more and more dirt and grit being traipsed in as a result of all the rain and mud?
Here are a few suggestions from the team at PCC:
Book now for carpet cleaning during the Christmas shut down
Just because our clients are taking a break doesn't mean we are! We work out of hours to suit you and minimise disruption in the workplace. If you've held the Xmas bash in the office there could well be the odd spillage of food and drink to clean away!
Are you decorating or refurbishing your office?
Why not get the carpets cleaned at the end of the process? Regular cleaning protects and adds life to your carpets.
Hotel Operators
Ask to see samples of work shifting ground in dirt near entrance doors, bar areas, and corridors.
Our team
Our team is proud to clean carpets and other floor coverings for a range of businesses and commercial companies across West Yorkshire. Our clients can rely on us to keep up to date with all the latest techniques, machinery and detergents so that we achieve the best possible results. We have the skills, knowledge and experience of cleaning even the toughest dirt from any susceptible area and all at competitive prices.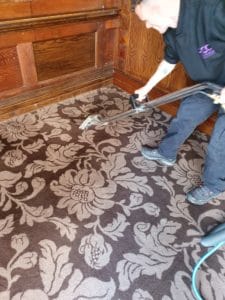 How we work
We always start by offering advice and managing expectations. For example, if you have a particularly difficult stain to clean from a carpet we will do a patch test first and give you an honest appraisal of the results we expect before we start. Generally, we can 'shift' the majority of those awkward stains and dirt, and our success rate is exceptionally high. We are fully insured, accredited and DBS checked for your peace of mind. Our insurance covers us for the carpets we work on, and also includes carpet treatment cover.
For more information on our techniques and working methodologies check out our page: https://phoenixcleaningcompany.co.uk/carpet-cleaning-leeds
Who do we work for?
We clean commercial carpets and other floor coverings for the whole of the business and public service community including:
Offices: Call centres and blue chip companies
Property management companies
Landlords
Schools and colleges
Hotel: Lobbies, public areas and bedrooms
Restaurants
Pubs and bars
Social clubs
Nursing and care homes
Student accommodation
Shops
Sports stadiums
What do we clean?
We tackle pretty much everything including dirt, stains and odour for:
Carpets
Laminates
Vinyls
Wood
Porcelain and ceramic tiles
Natural stone
If your commercial flooring needs a make over call us in for a quote!